Gym memberships tend to soar this time of year, which is most welcome news for gym owners who weren't sure how they would fare coming out of the COVID-19 pandemic. These owners now realize that disinfecting and frequent cleaning are the keys to keeping their doors open and their members healthy. For fitness facilities, cleaning is essential to business survival and growth.
Knowing where germs and bacteria tend to thrive most is important for planning a cleaning and disinfection program. According to a study conducted by Kent University in 2019, the most contaminated surfaces in fitness facilities were the following:
• Weight balls
• Cable curl balls
• Weight plates
• Treadmill handles
Other highly-contaminated surfaces include cable machine metal pins, water fountains, bench bars and yoga and stretch mats.
So how can gym owners and cleaning professionals in fitness facilities keep their spaces healthy? Follow these tips to reduce germs and bacteria to create a healthier, more welcoming space for members:
Practice Routine Cleaning
Cleaning should be an ongoing process throughout the day. Waiting to clean until the doors close for the night increases contamination and puts your members at greater risk of getting sick.
Offer Antibacterial Wipes
Antibacterial wipes should be easy to access throughout your facility. We offer a variety of wipes here in our online catalog, including these gym wipes from 2XL that kill 99.9% of germs that can cause illness.
Running and Elliptical Machines
Nearly every gym has these types of high-demand machines, and members spend a lot of time on them burning calories and breaking a sweat. This means germs can easily be transmitted from hand rails and digital screens to the next user. Keep your members healthy and safe by placing antibacterial wipes near each machine and encouraging users to wipe them down before they move on to the next part of their workout. Using the right wipes can help prevent the spread of COVID-19, Staph, MRSA and more.
Hand and Free Weights
Antibacterial sanitizing wipes should be placed throughout your fitness facility's weight stations, including near lifting machines and in free weight areas. Strategically and conveniently placing wipes is essential to promoting their use by members.
Floor Mats
Yoga and stretching mats can be hotbeds of germs and bacteria. Public mats should always be wiped down after use. Make it easy for your members by placing antibacterial wipes nearby!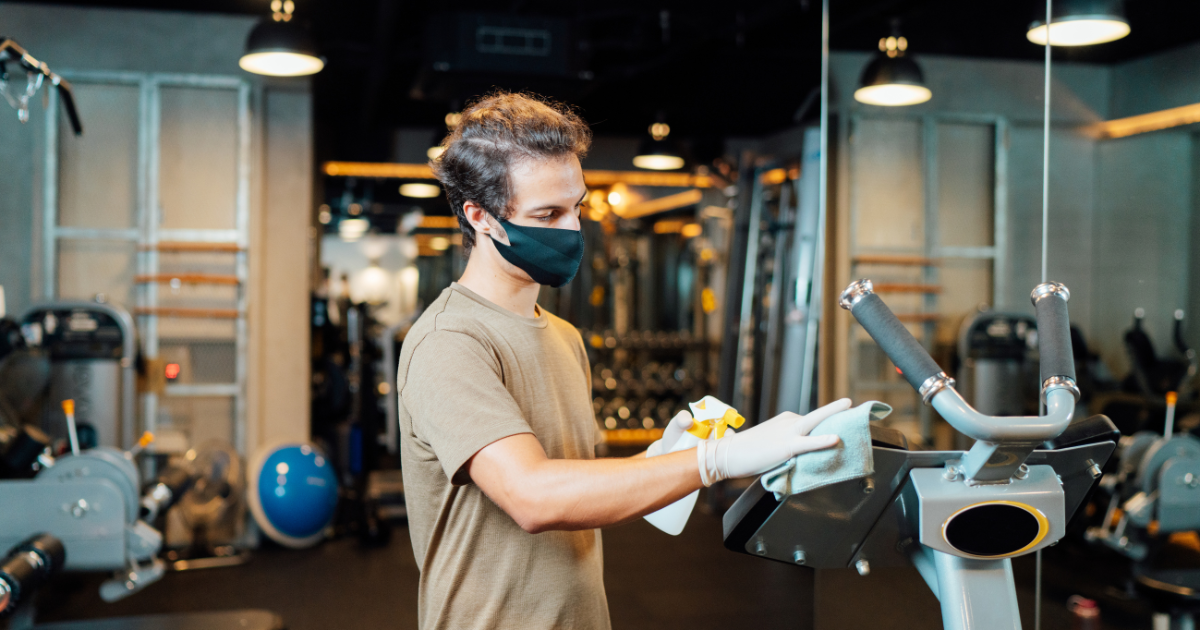 Use a One-Step Cleaner/Disinfectant
Using one solution to clean and disinfect contaminated surfaces saves time, money and effort. We love Spartan's BNC-15 One-Step Disinfectant Cleaner because it is an economical concentrate that is a proven one-step disinfectant, cleaner, sanitizer, fungicide, mildewstat and virucide — what more could you want in a solution?! Click here to learn more and order online.
Promote Hand Hygiene
Encourage your members to practice good hand hygiene by making antibacterial hand sanitizer easy to access throughout your facility. Click here to view all our hand sanitizing products, including wall-mounted dispensers and pump bottles and more.
Following these steps can help your fitness facility become a safer, cleaner, healthier environment for your members! If you have questions about these and other products, please contact us today.