Here at Banner Systems, we are committed to helping our customers make greener choices when it comes to cleaning supplies, equipment and paper products. That's why we are so proud to partner with Solaris, a company that is leading the way with advanced paper and dispensing systems, improved efficiencies and more sustainable products.
For Solaris, sustainability is a consistent top priority. Their new and innovative environmental practices include using responsible fiber procurement and processing, meeting the requirement standards for USGBC LEED certification and creating solutions that reduce waste while also reducing labor costs. Their LoCor line of towels, tissues and dispensers exemplifies this commitment.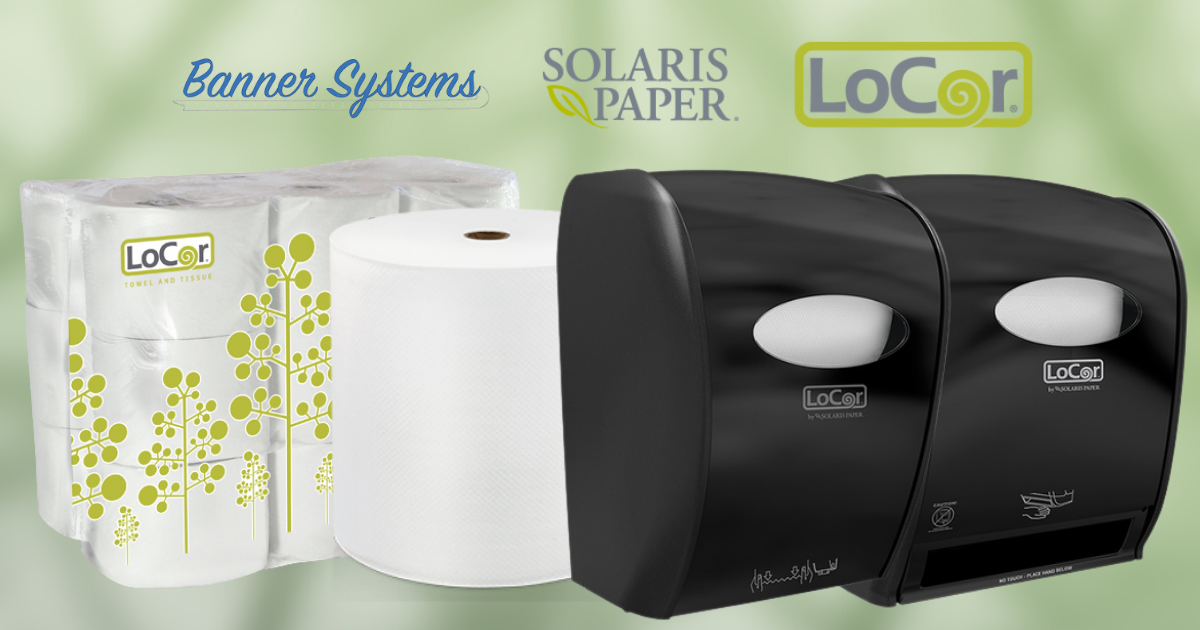 Solaris LoCor Hard Wound Roll Towels
Think all hard wound towels are the same? Think again! LoCor Hard Wound Roll Towels are bright, soft and more absorbent than the competition. With multiple sizes available, they're also designed to fit almost anywhere.
The First Reduced Core Towel System
LoCor hard wound towel products are revolutionary, featuring the commercial industry's very first reduced core towel system. Made from sustainable, Virgin Plantation Grown, Rapidly Renewable Fiber (RRF), these towels are bright, soft and white. The small core allows for more product per roll, resulting in longer-lasting rolls, fewer roll changes and reduced labor costs.
This 8" x 1000' 1-ply hard wound roll towel delivers greater absorbency, quality and strength, all at an economic price. These products also reduce packaging waste while providing higher capacity where you need it most — the restroom. Truly a superior restroom solution!!
Solaris LoCor Electronic Hard Wound Roll Towel Dispenser
This toucheless electronic towel dispenser features state-of-the-art electronic circuity. A superior hygienic solution, it is a high-capacity dispenser that also lowers costs! The LoCor electronic towel system reduces labor, reduces costs and creates safer, cleaner restrooms.
Solaris LoCor Mechanical Hands-Free Roll Towel Dispenser
Think a mechanical dispenser can't be hands-free? Think again! This LoCor toucheless towel dispenser delivers one towel at a time, reducing the spread of germs. Battery-free, the dispenser features quick, smooth paper delivery, low pull force, emergency feed assist and a key lock to discourage theft.
Solaris LoCor Toilet Paper
Our large selection of Solaris LoCor toilet paper includes various sizes and plies. When it comes to the perfect combination of price and quality, nothing else compares!
Click here to view all of our Solaris products in our online catalog!