What if we told you there's a simple alternative to traditional hand washes that means you'd never install another dispenser, repair a dispenser, run out of soap or stock another dispenser again? 
Meet foamyIQ from Spartan. The brilliantly simple alternative that's the result of years of customer feedback, research and innovative engineering. By design, there are NO expensive dispensers to install, repair or maintain. And you'll never have to deal with the hassle of refilling again, either — when your foamyIQ is empty, just remove it from the bracket and snap on a fresh new one.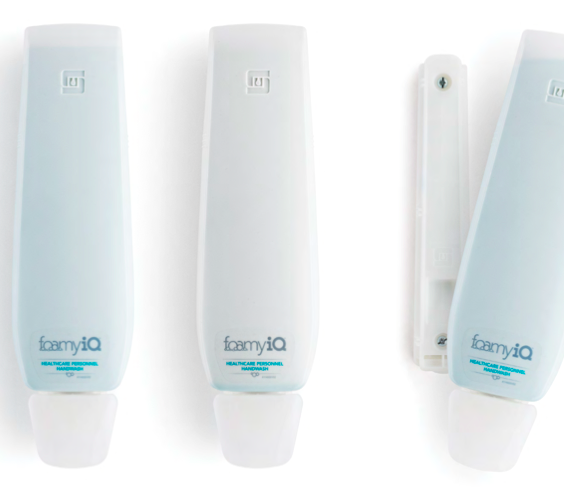 Just attach, deplete and repeat!
Snap your foamyIQ dispensing cartridge into place, see the level of product go down thanks to the clear view design, and once it is depleted, unlock your cartridge, toss it in the recycling bin and replace it with a new one. 
foamyIQ Benefits
Besides simplicity, foamyIQ delivers a host of other benefits! The system is sustainable because cartridges are recyclable and made from 25% post-consumer materials. The smart design features a secure, integrated locking mechanism for anti-theft protection, and the slim design fits easily where traditional, bulkier dispensers can't be used. 
Our Favorite foamyIQ Formulas
foamyIQ is available in a wide array of formulas to meet your needs. 
We love the foamyIQ Citrus Fresh Foaming Handwash because it is formulated with ingredients made from renewable resources and features a light, refreshing citrus fragrance. 
For food processing and service areas, we highly recommend foamyIQ Sanitizing Handwash. Free of alcohol, fragrance, dye and triclosan, this antibacterial hand wash is convenient and effective. 
Our best-seller is the foamyiQ Cranberry Ice Foaming Handwash. It does not contain any ingredients that leave you with dry skin. Instead, it leaves skin feeling softer and smoother along with its refreshing scent. It is a very cost-efficient, yet high-performance, option for schools, offices, and more!
When you do not have access to a water source,
foamyiQ Lemon Blossom Hand Sanitizer
has you covered! It is alcohol-free and triclosan-free with a light fragrance. Unlike alcohol-based sanitizers, this Benzalkonium chloride hand sanitizer is nonflammable, and it has increasing efficacy over time to keep your hands cleaner longer. The slim design of the dispenser means you can place these units all over your facility to increase hand hygiene.
Interested in learning more about foamyIQ or placing an order today? Contact us today!