The cleaning industry is constantly evolving, with new tools and supplies always being developed to make your cleaning program more efficient. One such advancement is the use of microfiber mops, which have quickly become a preferred cleaning tool for professionals. In this blog post, we will discuss the benefits of microfiber mops and highlight a top-of-the-line product: Contec Professional's Permira Disposable Microfiber Pads.
The Advantages of Microfiber Technology
Microfiber is a synthetic material made of fine fibers that are split to create microscopic channels. These channels provide microfiber mops with unique characteristics that contribute to their effectiveness:
Superior Dirt and Bacteria Removal
Microfiber mops are designed to trap and remove dirt, dust, and bacteria more effectively than traditional mops. The split fibers create a larger surface area, enabling them to pick up and hold more contaminants. This results in a cleaner and more hygienic surface.
Improved Efficiency and Time Savings
Microfiber mops glide smoothly across surfaces, reducing the effort required for cleaning tasks. Their superior dirt and bacteria removal capabilities also mean fewer trips to the cleaning solution bucket, resulting in time savings and increased productivity.
Eco-Friendly and Cost-Effective
Traditional mops often require large amounts of water and cleaning chemicals to be effective. Microfiber mops, on the other hand, require minimal water and can be used with or without chemicals. This reduces the environmental impact of cleaning and lowers costs associated with purchasing cleaning supplies.
Enhanced Durability
Microfiber mops are designed to withstand the wear and tear of professional cleaning environments. Their durability ensures a longer lifespan, which reduces the frequency of mop replacement and contributes to your cost savings.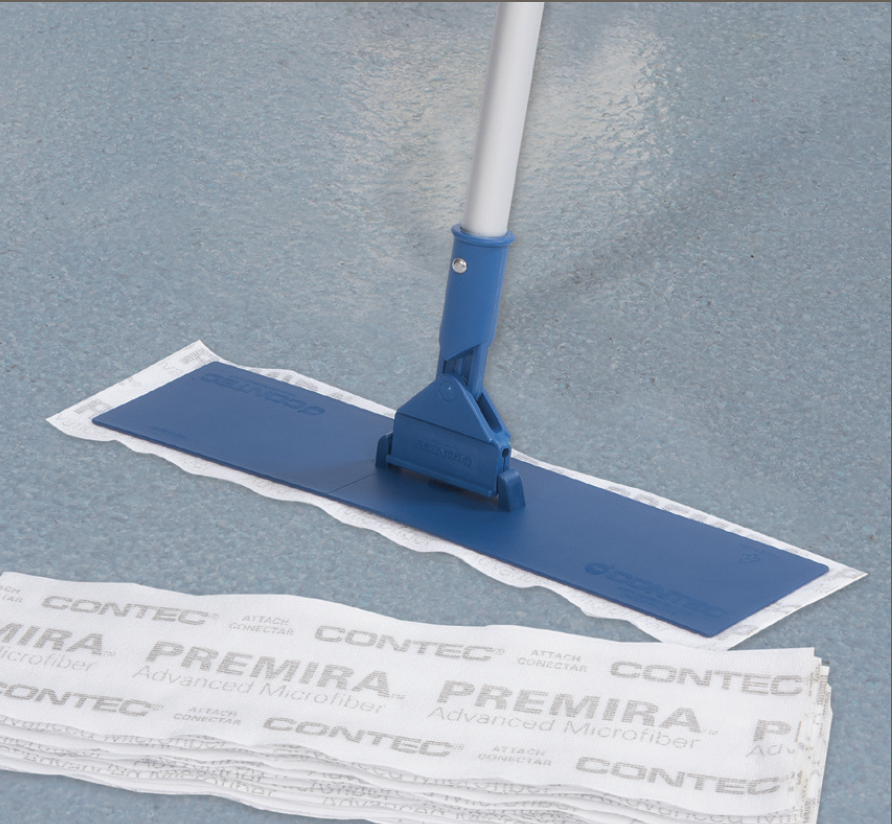 Contec Professional's Permira Disposable Microfiber Pads: A Cut Above the Rest
When it comes to microfiber mops in Brockton, the Permira Disposable Microfiber Pads from Contec Professional stand out as an exceptional choice. These pads offer the following benefits:
Single-Use Design for Optimal Hygiene
The disposable nature of the Permira pads ensures that each cleaning job begins with a fresh, uncontaminated surface. This helps to prevent cross-contamination and maintain high standards of cleanliness throughout your facility.
Efficient Cleaning Performance
Permira Disposable Microfiber Pads are engineered with high-quality microfibers that effectively remove dirt, dust and bacteria. Their design promotes optimal surface contact, which leads to superior cleaning results.
Versatile Application
These disposable microfiber pads are compatible with various mop frames and handles, making them a versatile addition to any cleaning arsenal. They are suitable for use on a range of surfaces, including hardwood, tile and laminate.
Cost-Effective and Sustainable
Permira Disposable Microfiber Pads provide the benefits of microfiber technology at a competitive price point. Additionally, their single-use design eliminates the need for laundering, reducing water and energy consumption associated with traditional mop care.
Make the Switch to Microfiber Mops in Brockton Today!
We highly recommend microfiber mops for their superior cleaning performance, efficiency and eco-friendliness. Contec Professional's Permira Disposable Microfiber Pads are the perfect solution for getting a superior clean every time. Stop by our showroom in Brockton to see these pads for yourself, and contact us today to place your order.