The industries we serve here at Banner Systems are diverse — we provide janitorial supplies and equipment in Boston to medical facilities, commercial office buildings, residential properties, educational institutions, industrial facilities and more. All of these markets have one thing in common: a need for efficient, reliable, effective cleaning.
Sanitaire commercial vacuums make that goal possible, no matter your industry.
These machines provide an exceptional cleaning experience with machines that meet all LEED requirements and are CRI certified. Your cleaning crew will love features like cushioned harnesses, portability, maneuverability and lighter weights. Because the machines are reliable, easy to use and simple to maintain, they can more efficiently clean every corner, crevice and surface of your space. And best of all, Sanitaire's durable vacuums will keep running through years of wear and tear, saving you money over time.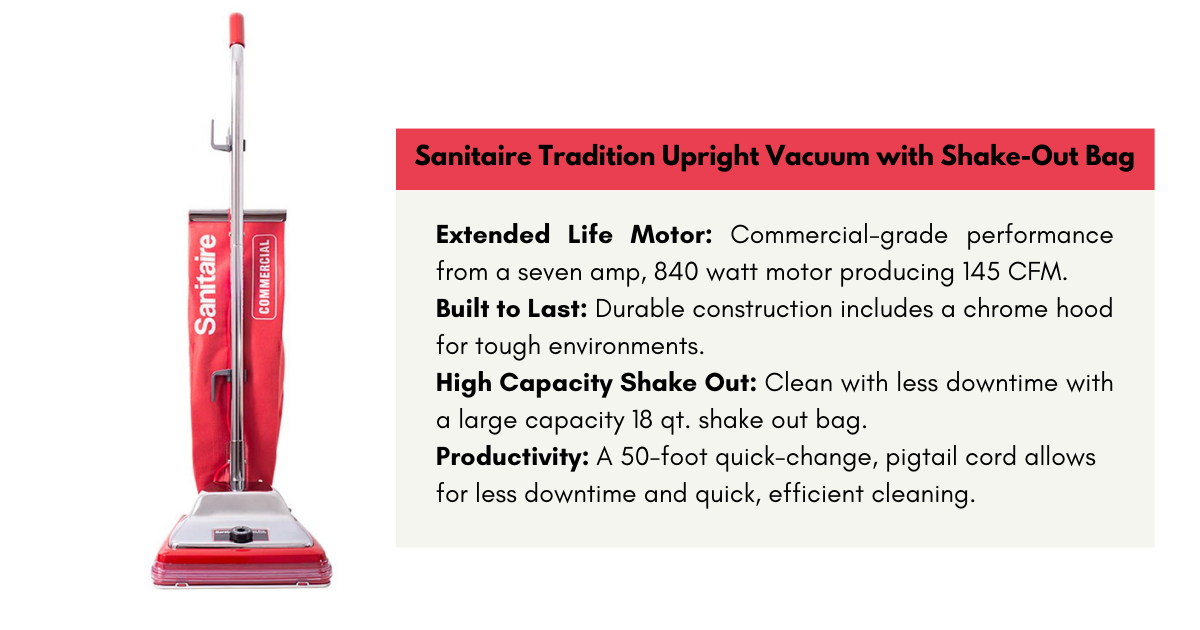 For Lower Cost of Ownership
The Tradition Commercial Upright Vacuum is designed with a chrome hood for added durability in the toughest environments. Lowers cost of ownership with a 2,000 hour motor, shake out bag and chrome brush roll with replaceable bristle strips. Quick Kleen fan chamber helps diagnose and clear clogs for easy maintenance. Increase productivity with less downtime with a large-capacity, 18-qt. shake out bag and 50-foot quick-change, pigtail cord. New model adds looped handle for added comfort and maneuverability and a detachable cord for easier and cost-effective maintenance!
For Quiet Cleaning
We love the Quiet Clean Canister Vacuum for any time you need to clean bare floors or carpets without making disturbing, loud noises. Ideal for office buildings, hotels and hospitals, the powerful 9.0-amp motor runs at 68 dB for quiet operation.
For Compact Cleaning
Need to clean small spaces with lots of obstacles? We love the Sanitaire Electrolux Compact Commercial Canister Vacuum. This compact machine is packed with power and features a 10 amp, 1,200 watt commercial-grade motor. It's six-piece attachment set is perfect for above-the-floor cleaning, including a hose, upholstery nozzle, crevice tool, retractable metal wand, deluxe floor tool and deluxe dusting brush.
For Capturing Dust and Allergens
The Sanitaire Commercial Upright Vacuum with Vibra-Groomer II helps eliminate germs and dust from your workplace, business or home. The Micron Filter system retains up to 99% of pollens and dust—great for the hospitality industry where high standards of cleanliness need to be maintained at all times. This unit utilizes the spiral design of the exclusive Vibra-Groomer II brush tool that produces an effective wave action, vibrating and subsequently capturing deeply embedded dirt. Vibra-Groomer II has chrome steel ball-bearing brush roll, with replaceable bristle strips and is lifetime lubricated. Provides users with a range of cleaning options with the six carpet settings!
Interested in seeing one of these machines in action? Contact Banner Systems today to schedule your FREE demo!
About Sanitaire
Sanitaire vacuums are known for their powerful suction, long-lasting performance, and reliable construction. They also feature a variety of attachments to help you clean hard-to-reach areas, as well as a range of specialized tools for pet hair and other debris. Sanitaire vacuums are also lightweight and easy to maneuver, making them ideal for both residential and commercial cleaning jobs.
Since 1972, Sanitaire has been a leader and innovator in the commercial vacuum industry. Sanitaire's portable machines provide exceptional performance, durability, productivity and cost of ownership for cleaning professionals in the education, hospitality, healthcare and office industries.
Sanitaire's diverse product line features upright, backpack and canister vacuums, floor machines, carpet extractors, air movers and accessories.