Maintaining your carpets protects your investment and is an important part of overall facility upkeep. From green cleaning methods to traditional cleaning, Spartan's carpet care maintenance program deep cleans and beautifies. The complete line of carpet care products includes everything you need to battle stains, prevent odors and keep your carpets looking their best. Here are some of our favorite Spartan carpet care solutions available now in our online catalog: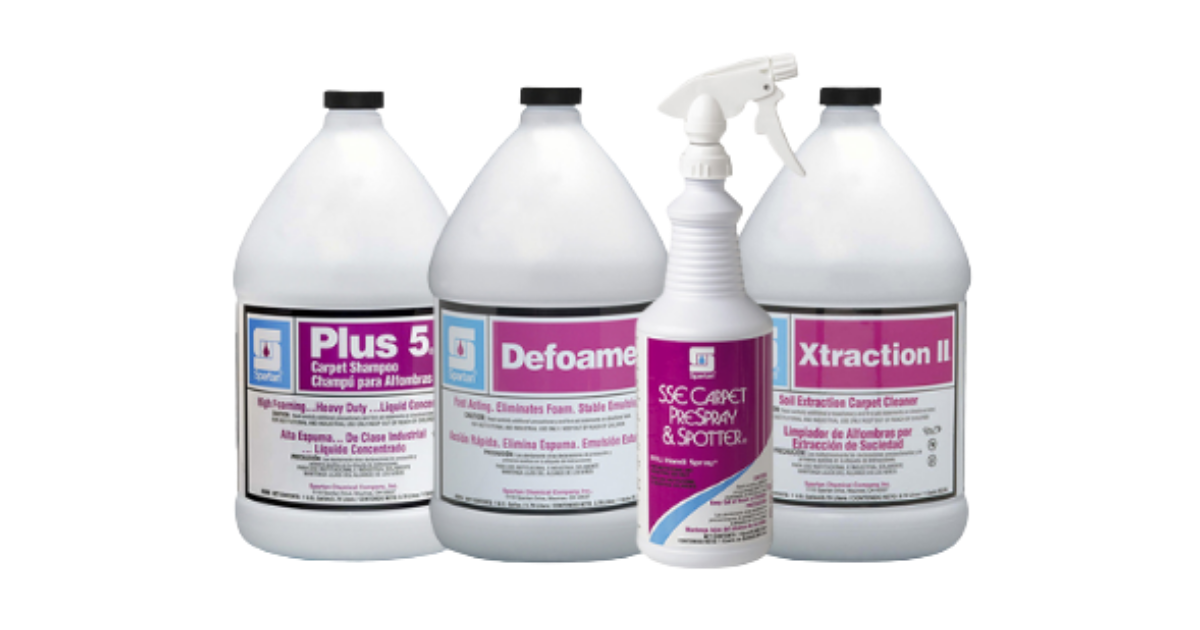 Spartan Plus 5 Carpet Shampoo
Formulated with high foaming, synthetic wetting and drying agents, inorganic builders, buffers and solvents, Plus 5 has a pleasant banana scent and is perfect for heavy duty shampooing tasks. A fast acting detergent, it penetrates and emulsifies grease, oil and ordinary soils. Click here to order online.
Spartan Defoamer
This RTU formula works with your primary chemical product to significantly reduce foam in recovery tanks of cold and hot water soil extractors, automatic shampooing equipment and floor scrubbers. The result is savings in both labor and time. Click here to order online.
Spartan SSE Carpet Prespray and Spotter
This is one of our favorite products for spray and extract carpet cleaning applications. Use it to pretreat traffic lanes before shampooing or extracting. You can also use it as an effective general purpose spotter. Click here to order online.
Spartan Xtraction II Carpet Cleaner
This fast acting heavy-duty carpet cleaner can be used with either hot or cold water extractors and features a power-boosting dual surfactant system. The low-foaming solution won't leave residue behind, keeping your equipment clog-free! Click here to order online.