It may not always feel like it, but spring is officially here! Soon, the temperatures will be rising, the birds will be singing and we may even see the sun peep out a few times. These are the pretty signs of spring, but there's an ugly one that many area facilities are discovering: floors covered in a white powdery residue from months of tracked-in ice melt.
Ice melt does a great job at keeping your sidewalks, parking lots and walkways safer all winter, but it also may leave an unpleasant stain on your floors if left there too long. Sodium-chloride based ice melts can dull the finish of your floors, and those made with magnesium chloride or calcium chloride can leave behind a residue that harms wax and urethane finishes. The result is unattractive, slippery hard floors and carpets that attract dirt.
The best way to prevent these damages is stop ice melt from coming in with floor mats, but if your floors are already marred by ice melt, follow these steps to make them look their best this spring:
Ridding Your Floors of Ice Melt Residue
Use a mop or vacuum to remove large pieces of sodium chloride products, and clean the area thoroughly with a mop and ice melt residue neutralizer.
These cleaners safely remove ice melt residue to keep your floors looking their best all winter long: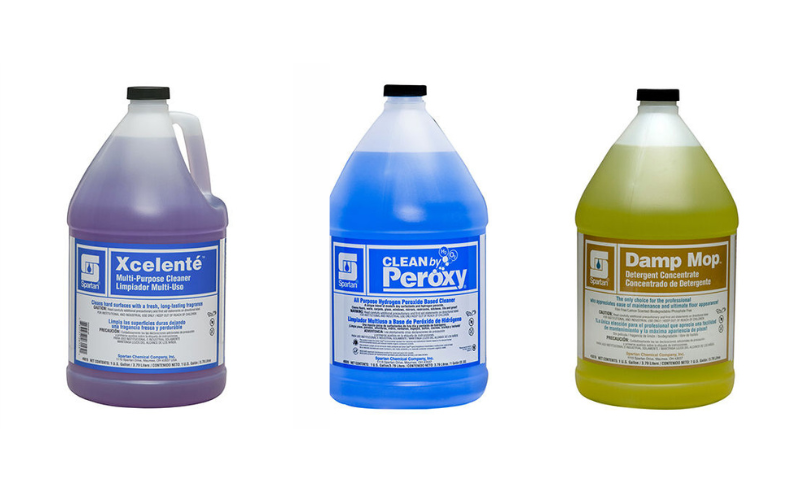 Spartan Xcelente All Purpose Cleaner
This multi-purpose, hard surface cleaner removes ice melt residue, leaving behind a bright, shiny, streak-free finish. The long-lasting lavender fragrance is delightful, especially in winter, and it will make your whole space smell fresh and clean. Order Xcelente online here!
Spartan Clean by Peroxy All Purpose Cleaner
Spring is still weeks away, but this all purpose cleaner from Spartan will make it smell like it's here already! We love the clean rain scent, and this unique formula does more than just remove ice melt residue from floors — it also cleans windows, mirrors, carpets, restrooms, kitchens, walls, tile and grout without streaking. This versatility means minimizing the number of products in your janitorial cart, simplified training and easier inventory management. It's also Green Seal certified and more environmentally responsible than many other solutions. Stock up today! Click here to order online.
Spartan Damp Mop Floor Cleaner Concentrate
This no-rinse floor cleaner concentrate from Spartan reduces the time and labor cost of daily maintenance for high-gloss floors. Fast drying, Damp Mop quickly and effortlessly removes dirt and other surface soils in heavily trafficked areas and leaves no residue or haze to dull floor finish. With a pleasant lemon fragrance, Damp Mop is also biodegradable and phosphate-free. Click here to order online.
If that doesn't do the trick, heavier cleaning with cleaning equipment will be necessary. To restore the shine of your floors and remove residue completely, consider spray buffing or burnishing. This will renew your floors and make them look like new all season.
Using a floor machine or autoscrubber may also be necessary to completely restore your floors. These more aggressive machines will remove some of the floor's surface to prepare it for a new coat. The result is a clean, shiny ice-melt free floor.
If ice melt has marred your floors this winter, contact the team at Banner Systems today to learn more about the products you need to keep your floors looking great this season and beyond!