Like us, Diversey's mission is to protect and care for people through leading hygiene, infection prevention, and cleaning solutions. Their innovative products have become synonymous with product quality, service and innovation and we are proud to partner with them to bring you the best cleaning supplies in Boston.
You can shop our entire inventory of Diversey products in our online catalog here, but below we are highlighting some of our favorite solutions: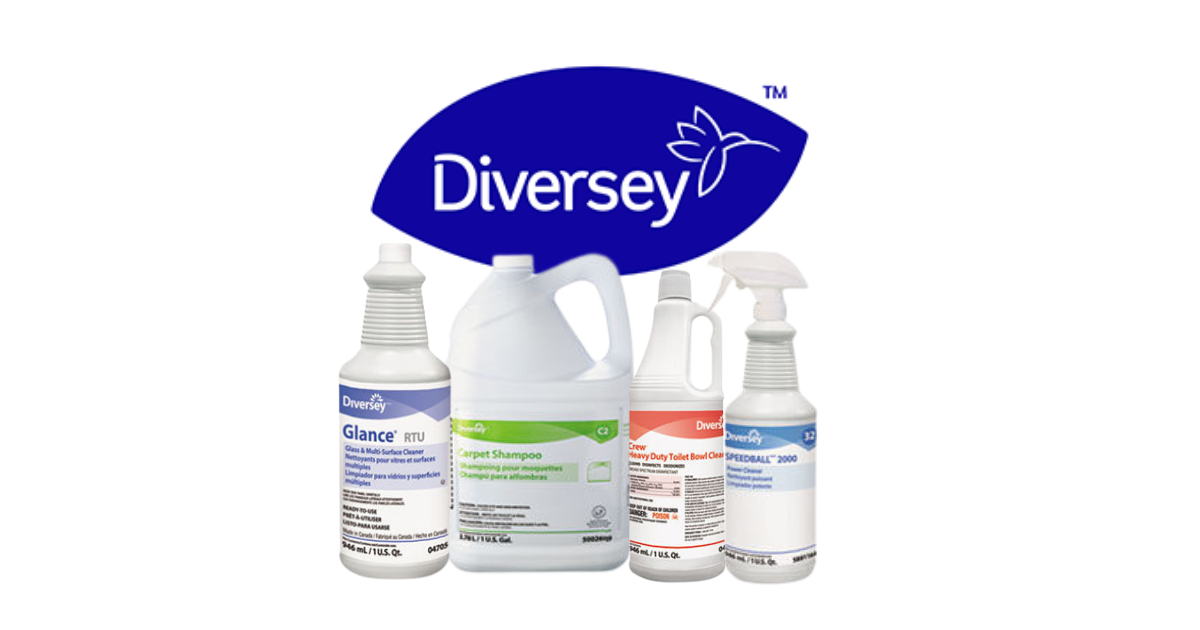 Diversey Carpet Shampoo
This floral-scented solution emulsifies soils and wicks deep into the carpet's surface, allowing for quick and effective cleaning. It works with both dry-foam and rotary cleaning processes and leaves no tacky residue behind. That means there is no need for a second rinse-solution pass! Safe for use on all carpet types and great for use on upholstery as well. Use it to tackle everything from food debris to oil-based soils, organic matter, grease, grime and spills. Click here to order online.
Diversey Glance Glass and Multi-Surface Cleaner
Shine glass and other washable surfaces with Glance, a heavy-duty ammoniated cleaner from Diversey. Effortlessly cut through grime, grease and finger marks without smearing or streaking. We love how easy to use this formula is: just spray it on the soiled surface and wipe clean to reveal a streak-free shine! It's perfect for removing dust, grime, grease, fingerprints and water marks from an array of surfaces, including countertops, windows, mirrors, windshields and more. Click here to order online.
Diversey Crew Heavy Duty Toilet Bowl Cleaner
Battling bathroom gunk? Crew comes to the rescue! This cleaner quickly and effectively gets rid of uric acid deposits, rust, lime scale and offensive odors. Perfect for periodic cleaning, this multi-purpose product cleans, disinfects and deodorizes in one simple step. Click here to order online.
Diversey Speedball 2000 Heavy-Duty Cleaner
When you need to clean the toughest soils, nothing tops Speedball. This non-acid formula is good for use on most washable surfaces. Spray-and-wipe cleaning conveniently saves you time tackling anything from dirt and grease to ink, oil, scuff marks and more. Use it on any hard non-porous surface. Click here to order online.